America's #1 Lawn Sign Manufacturer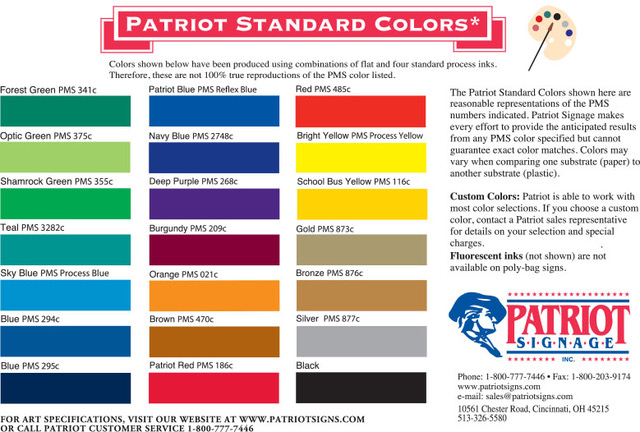 DO NOT depend on your monitor to accurately duplicate the colors we have indicated.  Please refer to a Pantone Matching System (PMS) book for accurate color matching.  Colors when reproduced will vary somewhat depending on materials being printed.  Patriot Signage makes every effort to provide anticipated results from PMS colors specified but cannot guarantee exact matches.
CUSTOM COLORS If our standard colors do not fill the bill, choose from over 1000 PMS colors for an added charge.  Please call 1-800-777-7446 for additional color match pricing.
Metallic inks are available on poly-bag signs only at no extra charge. Fluorescent colors are available only on Patriot's Yardboard signs.
SUPPLYING YOUR ART TO PATRIOT PROPERLY
ART SPECS:
Patriot's art department can create your art and fax or email for your approval. There is a $75 charge. Customer supplied art must be in proportion to the size of the product ordered. Please note all products have a 3/8″ white border around the perimeter of the sign – factor this into your design when preparing art. Include all elements of the sign including disclaimers, logos, etc. Art which must be reformatted may incur a $75 charge.
E-MAILED ART
We can accept Adobe Illustrator & Freehand files, PDF files and most generic EPS files. Files must be editable and text must be converted. Please talk to your Patriot Signage Customer Service Representative about your order before e-mailing any art files.
COMMERCIAL SIGNS:
PHONE NUMBER CHANGES:
A great way to promote multiple locations and some cost cutting at the same time. Let's say that you have five offices but only need 300 signs per office. If you (or we) design the sign wisely, the basic sign can be kept intact while the phone number (usually at the bottom of the signs) changes. Though you incur an additional charge for this service, it is far outweighed by the lower unit cost of a 1500 sign order. You save money and localize your signs.
POLITICAL SIGNS:
A political party or third party endorser can design a "generic" sign yet customize them with names of different candidates. For example, a sign could read "Hamilton County's Choice". At the bottom "slug in" one of four names. Each candidate gets 250 signs at an affordable premium to the 1000 quantity price please additional slug charges.
SEPARATE IMAGES:
Different images may be printed on each side of the sign. Check with your Patriot Customer Service Representative for details and additional charges.
TINTS (SCREENS), GRADUATED TONAL VALUES:
Utilizing a percentage screen or tint of a color is not recommended, but if required by the customer, the tint may (or may not) be treated as a separate color and incur an upcharge. Patriot Signage cannot guarantee the even intensity and consistency of the tonal value. These tints are printed at the customer's risk. Consult with your Patriot Customer Service Representative before proceeding with your order.
PHOTOGRAPHS:
Though Patriot has produced many great looking signs utilizing a photo, it is seldom a good idea to get in the way of name recognition even if you look like a movie star. In our opinion, a photo can contribute to the promotion of certain business enterprises but, if we were you, we would debate long and hard before preempting what potential voters need to remember… your candidate's name.
Reproduction of photographic images often (not always) result in classifying the production run in an additional color category. For example, a two color sign which includes a photograph may be prices as a three color sign. Photos should be supplied as continuous tone photos with high resolution. Photos that are pre-screened (have a dot pattern) will not be accepted by Patriot Signage. Please check with your Patriot Customer Service Representative for details and charges.